What is the best shirt folder?
When you're in a rush to get out of the door in the morning, the last thing you need is a disorganized closet. You know your favorite tee is in there somewhere, you just can't find it buried under the mountain of clothes. It's so frustrating – especially when you have to compromise your outfit.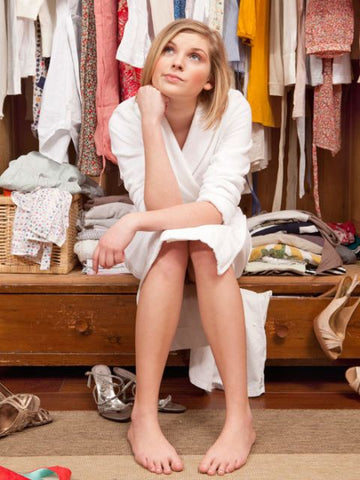 Does your closet feel like an endless pile up of clutter? Do you want to tidy it up, but your spirit is crushed by the idea of folding up all your shirts and polos? Are you obsessed with keeping all your clothes neatly stacked?
With just a few steps and snaps, the shirt folding board transforms your wrinkled shirt into a neatly folded top. A tall pile of laundry would not scare you anymore if you have the best shirt folder on hand.
INSTRUCTION

BoxLegend V2 shirt folder is the BoxLegend Clothes/T-Shirt Folder Folding Board that is an improved version of the old model as it is now designed with increased toughness. It is also a larger model as it measures 27.5'' * 23.6'' and it weighs 2.2 pounds. Moreover, it is made from environmental PP materials that are able to eliminate brittleness of the shirt folder. You can fold up your clothes in just five steps to ensure that your clothes will lay flat and you can save up on time. It is designed with a round hole on the folding board to ensure easier handling for a quicker folding speed. In addition to this, it is smooth to the touch due to the frosted design. This makes it easy to clean, smooth to the touch, and is able to maintain the stability of the clothes. It also takes up less space as you can fold it easily for storage and it is extremely lightweight. This is a worthy purchase if you want to save up on time, space, and energy when it comes to folding your clothes. It comes with sturdy hinges that ensure your shirt folder will last longer and usable. An unsteady hinge will render your shirt folder useless, which is why this shirt folder provides a buck for your bang.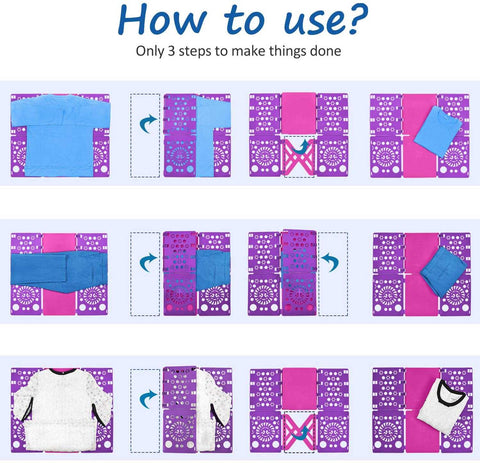 Another The BoxLegend V3 Best Seller T-shirt Folder is another shirt folder that has a smaller measurement. This is an affordable alternative to the more expensive folding boards that you can find on the market. In a matter of seconds, you can fold up your pile of laundry, which would usually take double the time than usual. It is made of PP composite materials that ensure the durability of the shirt folder. Moreover, it will not turn brittle despite changes in the climate of your area. In addition to this, this shirt folder carries a frosted design to keep all your clothes in place as you fold them up. You can adjust the stripe design on the bayonet on this folding board to ensure that it can easily accommodate clothes of varying levels of thinness and thickness. It is designed to help you save up on the time that you usually spend when folding clothes. Moreover, your clothes will lay flat to save up on storage space because you can stack up more shirts in an even manner. The size of this folding board can help you fold up your towels, dresses, shirts, and jeans in no time. This unit is slightly smaller than other shirt folders as it measures 27.56'' * 22.44'' and it weighs 1.45 pounds.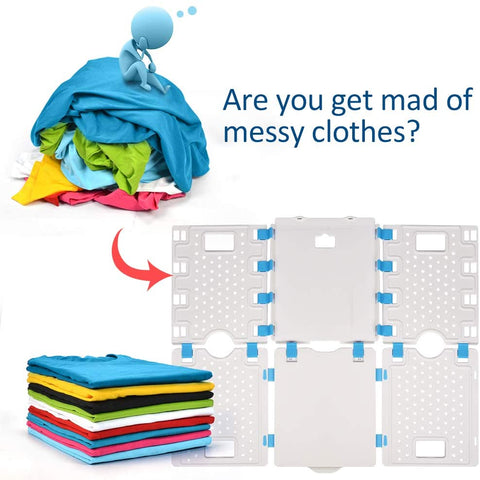 The last shirt folder on the list is made of tough PP composite materials that prevent embrittlement caused by hot and cold severe climate change. The Newest V4 Adult Shirt Folder Board Organizer Adjustable Clothes Shirt Folder by BoxLegend is able to bear continuous use as it is highly ductile. It's white and blue. You can fold up your pants, dresses, shorts, robe, or t-shirts in barely three seconds using three easy steps. Moreover, it also carries the same frosted design for easier maintenance. It is also smooth to the touch to ensure that you can fold up your clothes comfortably. Additionally, it is able to save you up on precious time as it cuts your folding time in half. The medium size hole design of this shirt folder presses out air to make sure that the clothes are folded flat and in a neat manner. It has a size of 28.3'' * 22.3'' when the shirt folder is not folded and it has a 8'' * 8'' when it is folded. This allows you to store the shirt folder easily. Moreover, the Newest V4 Adult Shirt Folder Board Organizer Adjustable Clothes Shirt Folder by BoxLegend only weighs 800 grams.
When it comes to choosing the right shirt folder board for you, it mostly falls down on the size above anything else. You have to make sure that it can accommodate the whole shirt in order to not leave any excess part like the collar or the shoulder. So, without further ado, here are the best shirt folder boards.
Shirt Folder boards are not only about getting things done in an orderly fashion but it also provides fun during the process, believes it or not. Once you get the hang of it, you'll never look back.
0 comments