The Best Way to Fold All of Your Clothes, from Jeans to Sweaters
Posted by AdminBoxLegend on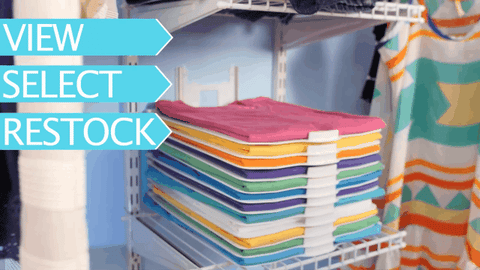 With summer officially here, t-shirts, tank tops, and the occasional dress shirt (for a night out) will be staples of your seasonal wardrobe. Of course, the rising temperatures will encourage you to stay away from irons and steamers as much as possible, and instead find the best way to avoid wrinkles. And honestly, who can blame you?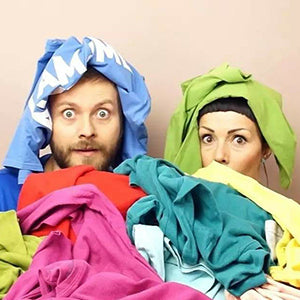 The secret to getting boutique-worthy shelves and dresser drawers is a T-shirt folding board. It not only makes your piles of tees look pristine, but neatly folded clothing can be a serious space-saver, too. Best of all though, a T-shirt folding board is a faster, easier, and more efficient way to fold a variety of tops.
But not all folding boards are the same, and depending on your wardrobe, different styles and added features may be better suited to fit your desired folding preference. For instance, although any T-shirt folding board can conquer T-shirts with ease, some can also help fold blouses, thick sweaters, or kids clothing.
No matter which type of board you choose, the best T-shirt folders can help turn a heaping load of laundry into a tidy stack quickly and effortlessly. So whether you're a novice to the art of folding tees or retail veteran, these boards are just the thing to help you tame and tidy your wardrobe.
Folding a t-shirt is as easy as pinching three points on the fabric and giving it a shake.
BoxLegend V2 Travel Clothes Folder, Flipfold Laundry Folder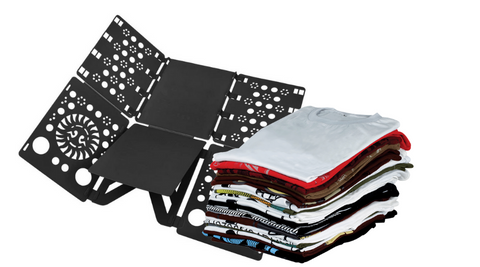 This sturdy plastic board is style of T-shirt folder that Best Seller — and for good reason, too. It's simple, compact, and the handle makes it easy to slide out of a folded top. On the V2, the joints between the upper side panels are substituted with swiveling hinges, so you're not actually bending any plastic material. On the lower side panels, the hinges are made of soft flexible silicone, that bend and flex easily and also can stretch. 
BoxLegend V3 Durable Plastic Shirt Folding Board

The V3 folder is the Largest and the Sturdiest design, and has two long panels on the sides and two smaller panels in the middle. The overall open size is 27.5" x 23.6".
Pro tip: fold thicker clothing on the widest board. The V3 folder is the largest that will distribute the bulkiness out so that, for instance, a tall pile of sweaters will stay neatly stacked instead of toppling over. Just use the instructions embossed on the lower center panel of each unit or follow the color photo illustrated directions in the manual that comes with each folder. You'll end up with perfectly uniformly folded clothes, whether you're folding a t-shirt, collared dress shirt, sweater, or even pants.
On the V3, the joints are solid and fused between the plates, they do have folding instructions printed on them and this sized boards allow you to get the perfect fold whether you're working with kids clothing or a chunky sweater.
BoxLegend V4 T-shirt Folder with Closet Organization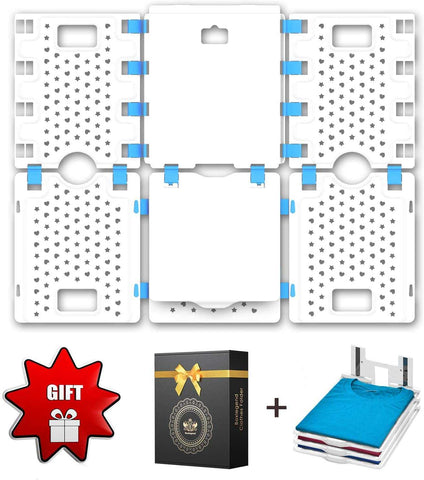 It's easy to see why this is the most popular folding board: In three simple steps this board folds anything from T-shirts to pants to sweaters. Unlike a lot of similar boards on the market, this board features adjustable hinges so that you can easily fold thinner or thicker garments. Folded up it's 12'' by 10'', 1-1/2" thick, and features a closet organizer that makes it super easy to store. The difference for the V4 is that it is made to work with a unique magnetic organization system utilizing removable trays.
On the V4, all articulating points have been replaced with either the swivel hinges, or flexible silicone soft hinges, which makes this one the most durable. The folders are lightweight, flexible, and super thin, so they aren't just easy to slide into a drawer at home but they're perfect for slipping into luggage too.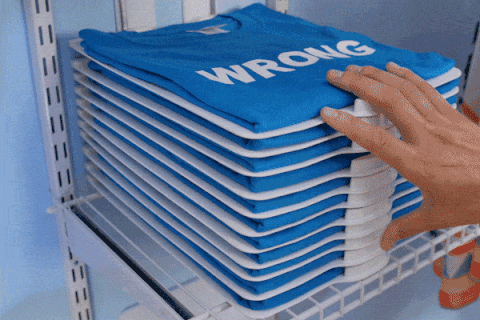 ---
Share this post
---
---
---
0 comments